If you've never made homemade ice cream then you're in for a treat! This recipe is quick-n-easy and more delicious than store bought ice cream. Think Red Cacao chocolate but in ice cream form! If you'd like to play around with the flavours – it's easy as I-C-E. See step 3 before you begin, check the pantry and add whatever you like to make your very own flavour. Or we offer 33% Milk Chocolate Drops, 54% and 71% Dark Chocolate and even White Chocolate Drops.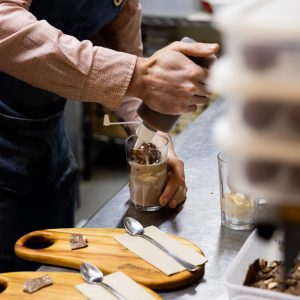 Makes 1.2 litres
Time: 20 minutes prep, plus freezing time
Difficulty: 3/10
INGREDIENTS
900ml thickened cream 
300g Red Cacao Chocolate Drops 54% 
2 teaspoons vanilla extract 
4 egg yolks 
150g caster sugar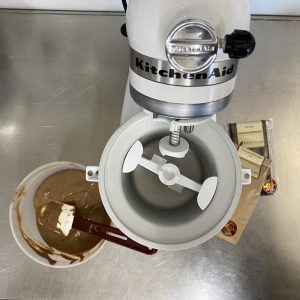 For best results use the KitchenAid Platinum Stand Mixer KSM156 with the Ice Cream Bowl Attachment
Place cream and 54% Red Cacao Chocolate Drops into a heatproof bowl. Place the bowl on top of a saucepan containing simmering water. Cook over a low heat, stirring occasionally until the cream and chocolate mixture is melted and smooth.
Attach the wire whisk to the standmixer, pour the chocolate mixture into the mixing bowl. Turn to speed 2, pour in the vanilla, egg yolks and sugar and mix for 1 minute. Cover and place the mixture into the refrigerator to chill for 30 minutes or until the mixture is just chilled but not set firm.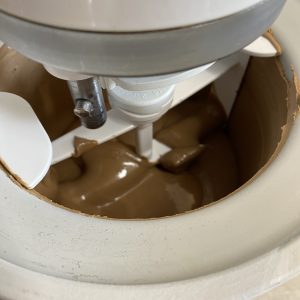 Attach the ice cream attachment to the standmixer and turn to speed 1. With the machine running, slowly add the chocolate mixture to the freezer bowl. Churn for 20-25 minutes until you see a soft serve ice cream like consistency. When the mixture is ready it will begin to rise up the paddle. Now we're churning!
Remove from the freezer bowl and serve immediately as a soft serve or spoon into an airtight container, seal and freeze overnight for a firmer consistency. Remove from the freezer and stand for 5 minutes before scooping and serving.

Note: If you're thinking of adding something else like cookies, salted caramel or anything else then when you remove the ice cream attachment is when you should stir it through.



– You can find our house made ice cream in our shakes, iced drinks, ice cream pots and on our waffles.