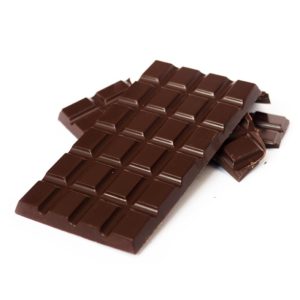 While many will often joke, 'Hey, dark chocolate is basically health food!' it turns out that's not too far off the truth. A 100-gram bar of dark chocolate with 70–85% cocoa contains:
11 grams of fiber
67% of the DV for iron
58% of the DV for magnesium
89% of the DV for copper
98% of the DV for manganese

In addition, it has plenty of potassium, phosphorus, zinc, and selenium.

The fatty acid profile of cocoa and dark chocolate is also good. The fats consist mostly of oleic acid (a heart-healthy fat also found in olive oil), stearic acid, and palmitic acid.

The stearic acid has a neutral effect on body cholesterol. Palmitic acid can raise cholesterol levels, but it only makes up one-third of the total fat calories.

Dark chocolate also contains stimulants like caffeine and theobromine, but it's unlikely to keep you awake at night, as the amount of caffeine is very small compared with coffee.
Red Cacao has a great selection of dark chocolate products from coated nuts, blocks and snacks check them out here!