Our pastry chef Natalie kindly shared her recipe for her carrot cake – perfect for afternoon or morning tea. Nat's carrot cake is deceptively simple to make and sure to impress, with its moist, light centre and zingy frosting. 
The vegetable oil keeps the cake moist (melted coconut oil works, too, if you like the subtle taste of coconut). Once frosted, the carrot cake should be stored in the fridge where it will keep nicely for 3-4 days, just be sure to bring it to room temperature before serving again. Feel free to adjust the spices to your liking, adding more of one and less of another or adding new ones entirely!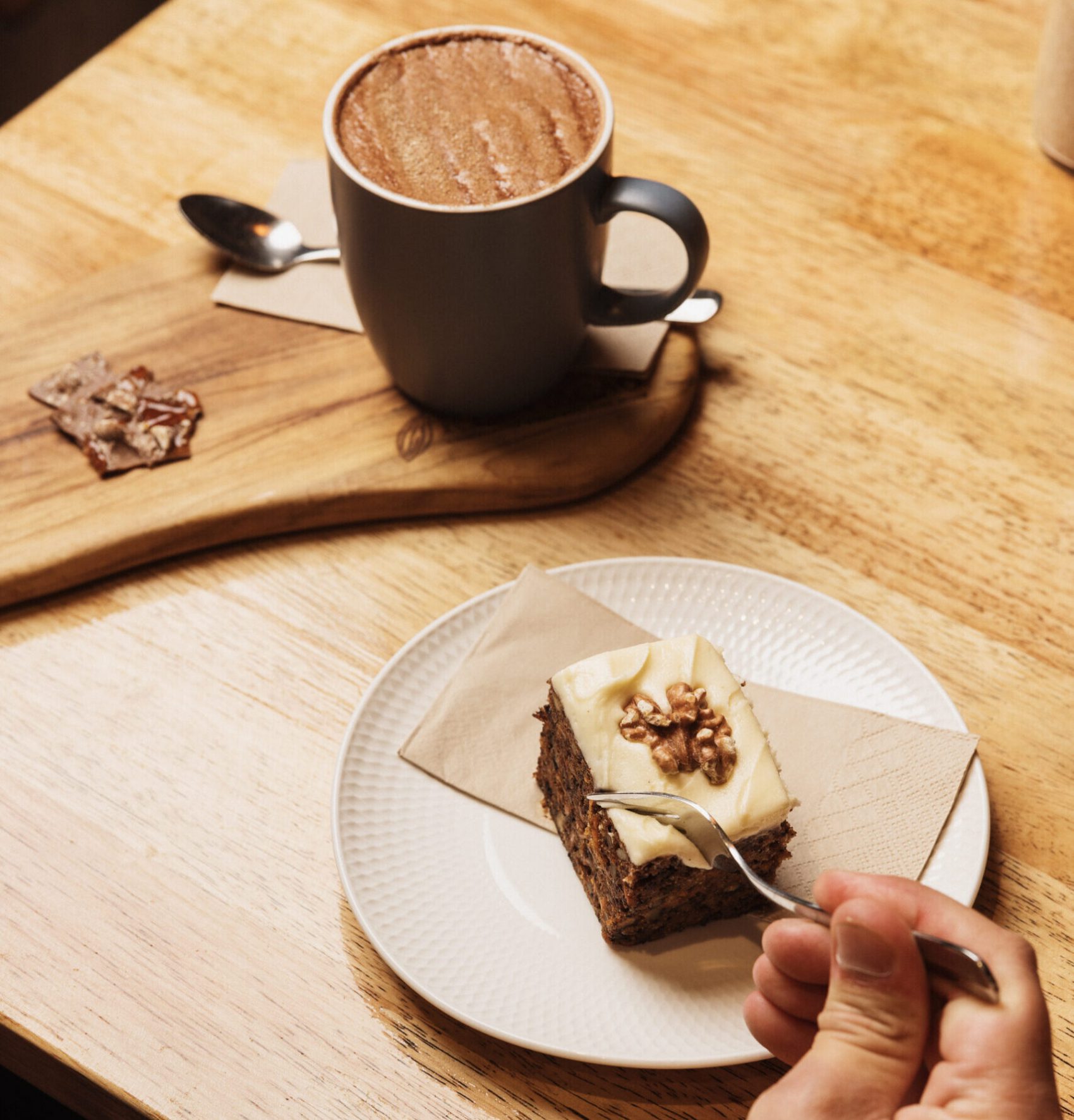 Makes 8 – 10 serves 
INGREDIENTS
200g of plain flour 
155g of castor sugar
65g of brown sugar  
2 tsp of Baking powder
A pinch of cinnamon
A pinch of nutmeg
A pinch of ground cloves
A pinch of dried ginger
3 eggs 
130g of vegetable oil 
½ a tsp of vanilla essence 
335g of grated carrots
130g of walnuts 
FOR CREAMY FROSTING
200 grams of cream cheese, at room temperature
70g Butter room temp
1 teaspoon of vanilla
350g icing sugar
1/2 cup coarsely chopped walnuts, for topping 
METHOD
Line cake tin with baking paper

Mix together the dry ingredients

Peel then grate the carrots

Blitz up the walnuts until as chunky as you like and set aside

Toss the grated carrot through dry ingredients first to coat the carrots

Now mix in the wet ingredients and walnuts until all ingredients are incorporated. Don't over mix.

Scoop the mixture into the cake tin 

Bake in the oven at 150 degrees for approx 2 hours, turning at the hour mark. Rotate when necessary. 

Leave in the tins to cool

Frost and then cut into portions.