This step-by-step playbook on how to replicate our passionfruit macarons at home is easy to follow and a great activity to do with the family. But what exactly is a macaron? Macarons are French in origin and are like delicate sandwich cookies with a unique, chewy and soft centre. The casing of the "sandwich" is called the 'shell' and gets its crispness from properly beaten egg whites. This recipe from our pastry chef Nat is gluten free.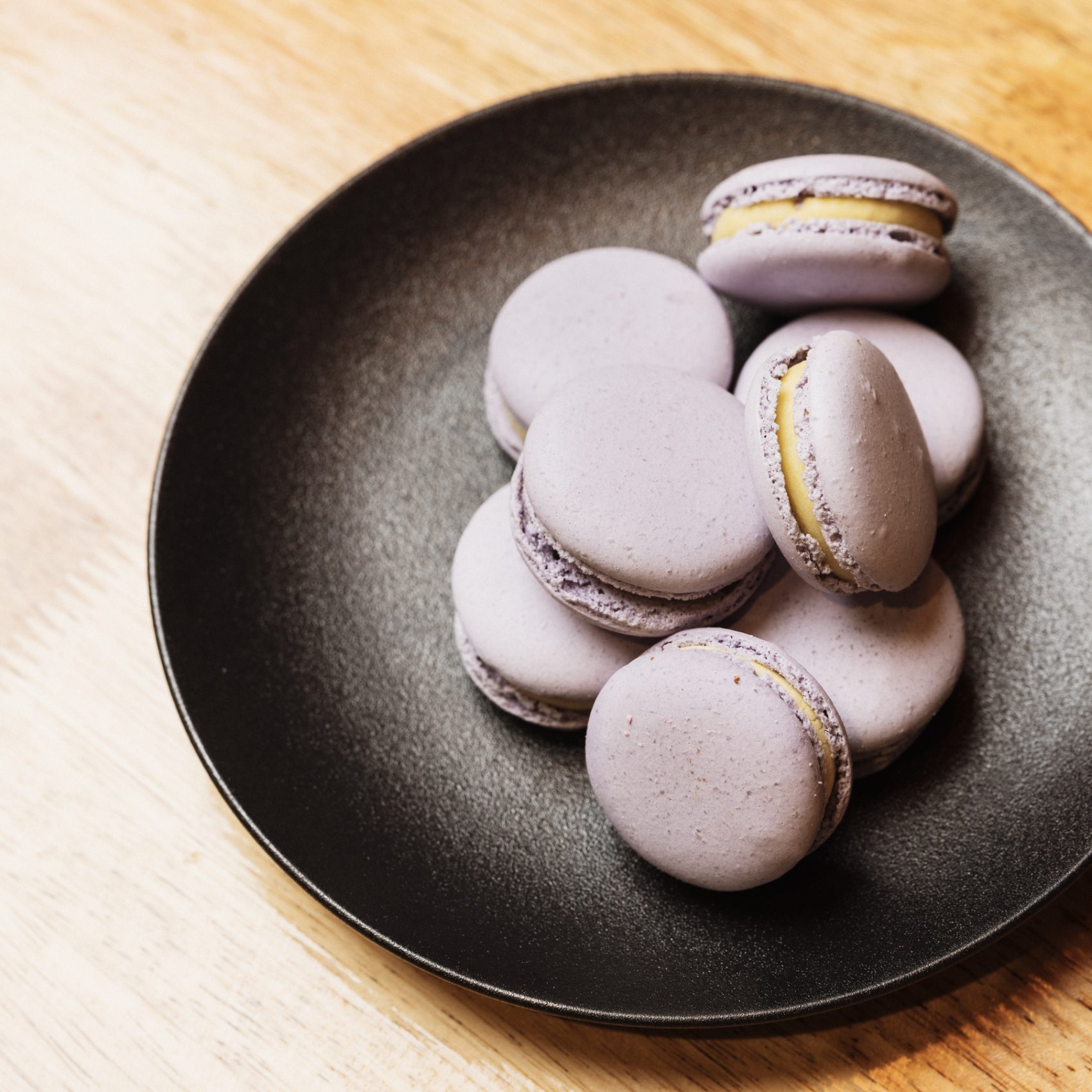 Makes 30 macarons
FILLING
INGREDIENTS
METHOD
Heat the passion fruit puree, caster sugar and and cream until it comes to the boil

Pour it over white chocolate drops and whisk

Add in butter and whisk until it is all melted

(if needed the mixture can be put into the microwave for a couple of minutes to melt everything if there are any remaining chocolate drops not yet melted)

Cover with cling wrap directly touching the top so it does not form a skin and leave to cool overnight at room temperature.  

If the mixture is too firm, pop into the microwave for 10 seconds at a time until pipeable.

Pipe onto the base of 1 shell and sandwich together with a second shell. You can pick up a piping bag from your local Woolies. 
SHELLS
INGREDIENTS
200g of caster sugar

75ml of water

4 egg whites

200g of almond meal (sifted)

200g of icing sugar (sifted)
METHOD
Preheat the oven to 200 degrees.

Place the caster sugar and water in a pan and simmer until it reaches 118 degrees. Test with a sugar thermometer and brush down the sides to avoid crystallisation.

Meanwhile using an electric mixer on medium speed whisk two egg whites until soft peaks form. Increase the mixer to high then slowly stream in the hot syrup and mix until combined. Set aside.

Mix together the almond meal and icing sugar and blend up in a blender, sieve into a bowl discarding the bits that don't fit through the sieve. 

Add the other two fresh egg whites to the almond meal and icing sugar and stir to achieve a thick paste like consistency.

Add food colouring to this paste so it is slightly darker than the colour you would like.

Add a couple of spoons of meringue to egg whites and mix well to loosen the mixture, now add remaining meringue and fold gently until your mixture is shiney and flows back into itself within 30 seconds.
Tap the tray to flatten,  now reduce oven temperature to 150 degrees.

Bake for 15 minutes (approx) until bases are firm and macarons can be lifted from the tray.

Once totally cooled, match the same size pairs. Pipe one side with passionfruit ganache filling and sandwich them together straight away.

Store them in an airtight container until you need them.

Serve at room temperature. Enjoy.